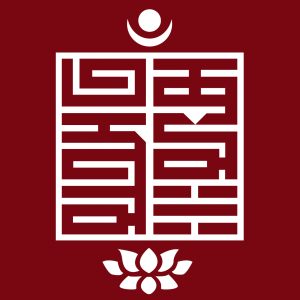 Have you noticed the new logo on the Threads of Awakening website and on this message? Okay, okay, it's not SO new. It's been on the site for a few months already! But as I mentioned last week, this is a time of acknowledgement and celebration of imperfect accomplishment and continual unfolding. I'm doing it, and I encourage you to do the same. So here goes!
This logo is my personal seal, designed by Tashi Mannox, an English calligraphy artist. I met Tashi by chance on a short visit to London in November 2001. He was meeting with Linda Wrigglesworth when I entered her gallery of Imperial Chinese Costume and Textiles for the first time. They were discussing his recent calligraphy exhibition there.
Tashi was trained in fine art in England before becoming a monk in the Tibetan Karma Kagyu lineage. For the next seventeen years, alongside his monastic training, he studied Tibetan art and calligraphy, taking inspiration and guidance from well known spiritual and artistic masters such as Sherab Palden Beru, H.E Situ Rinpoche, and Chogyam Trungpa. You can view a beautiful short film about Tashi and his work here:
http://www.tashimannox.com/index.php/tibetan-calligraphy/about-the-artist/a-short-film-about-tashis-work
Like me, Tashi Mannox uses a combined Tibetan and Western name, uniting his English origins with his Tibetan-infused life.
Signed versus Anonymous Artwork
Ten years ago in London, I was struck by Tashi's gentle and open presence. He spoke of his work with Tibetan and Mongolian scripts. And Linda joined the conversation as we spoke about signed vs. anonymous artwork.
Tibetan thangkas were traditionally anonymous and unsigned. When names or dedications were added to a piece, it was more common for the patron of a thangka to be identified than the artist.
Linda asserted the importance of signing contemporary works (even if traditional in nature). If I recall correctly, she said that contemporary collectors want to connect with the artist, and a signature supports that connection. Tashi suggested a personal seal could add a unique yet traditional way of signing my work.
As I wandered into other galleries later that day, I noticed the personal seals that marked a contemporary Chinese artist's work. Later I would notice such seals in a variety of contexts.
The Creation of My Seal
I wrote to Tashi and asked him to design a seal representing my name and perhaps also representing an integration of east and west, inner and outer. At that time I was still using my given name "Leslie Freilich" and my Tibetan name "Rinchen Wongmo" separately. I had not yet integrated the two. So my original seal contained the initials "LF" alongside the Horyig "Rinchen." We've since removed those letters.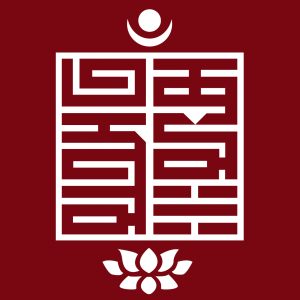 What is Horyig? It is the Tibetan term for the neo-Tibetan/Mongolian scripts used in seals. Tashi uses these scripts, along with his artistic skill, to create personal symbols.
"Incised with the name of the individual or a pictorial design representing qualities admired by the owner, seals can be applied as a form of signature to personalize artwork and correspondence much as a logo is used in the West."
So the center of my seal says "Rinchen," precious. You can read more about the meaning of Rinchen-Wongmo here:
http://threadsofawakening.com/rinchen-wongmo-precious-empowered-woman
Below my name is a lotus, symbol of our always clear, unstained nature, our ever-present buddha potential rising out of the muck of samsara.
Above my name is a sun and moon, symbol of wisdom and skillful means, emptiness and compassion.
Since 2002, I've been using this seal to stamp my thangkas, sometimes in a corner on the front as in the Three Mongolians, more often on the back as on Nomad Girls and Chenrezig. I then sign "Leslie" across a corner of the stamp by hand.
In April of this year, Stacey Lawlis, WordPress designer and copy writer extraordinaire, had the brilliant idea to turn the seal into a logo, incorporating my name in a curly thread-like font (Sweet Upright Script) and "Threads of Awakening" as you now see it on the website.
Tashi very kindly spiffed up the original artwork for its new position in the spotlight. He's improved his already excellent skill over the past decade and wanted to give us his current best. Beautiful, isn't it?
If you'd like a seal of your own, you can contact Tashi through his website. He's a truly talented and humble individual and a pleasure to work with!
P.S. The great Steve Jobs passed away this week. The announcement came as I was headed to the Apple Store for help in my struggle to transfer data from a failed MacBook to a shiny new one. I was not particularly happy with Apple (or computers in general) at that moment. But the imperfection of my experience with Steve Jobs' creation in no way diminished his accomplishment nor my appreciation of it.
As Jobs said in that well-watched 2005 Stanford commencement speech, "You can't connect the dots looking forward; you can only connect them looking backwards. So you have to trust that the dots will somehow connect in your future. You have to trust in something — your gut, destiny, life, karma, whatever."
I'm grateful for the dot on which I met Tashi Mannox in London and the dot where Stacey Lawlis recognized the seal's potential as a logo. And I'm grateful to be able to share the current result of those connected dots with you. I trust that the connections will continue and that many many more shimmering dots will define an unfolding beauty.
You can view my seal on Tashi's website here:
http://www.tashimannox.com/index.php/tibetan-calligraphy/seals/rinchen-name-seal/calligraphy
And above every thangka on my own website!
http://threadsofawakening.com
Purchase Artwork & Prints | Commission Your Own | Online Courses