Stitching Connection into a Lotus Print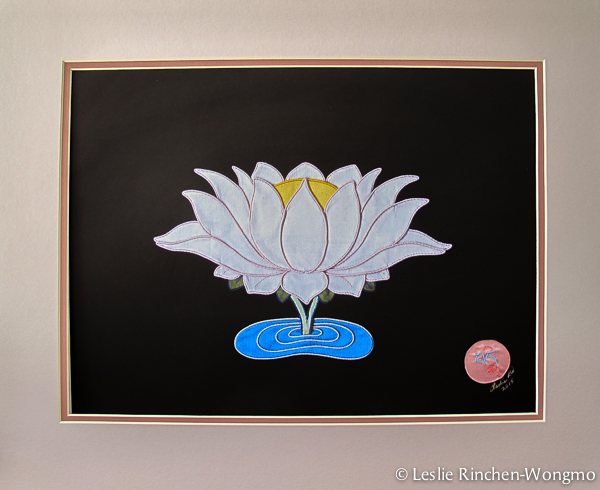 A couple months ago, I received an intriguing request from a longtime subscriber to the Weekly Wake-Ups.
She wanted a print of my Lotus flower with a piece of hand-sewn work mounted in the frame.
"A small scrap of fabric with some horsehair cording attached… Something like a relic," she said.
"To me, it would give your energy to the print. Could that be done?"
Why not?
Kasia (the woman who made this request) and I are kindred spirits in the crossed paths of fiber and awakening. Kasia's been on my mailing list since 2010 and I've always admired her skill in creating circular textile pieces.
(Cutting and sewing circles on the perpendicular warp-weft of fabric is a challenge. There's a strong tendency for the fabric to warp and the circle to distort. Kasia clearly has a special relationship with her fabric and has mastered the art of circles! Someday I hope she'll teach me. In the meantime, her sweet book of textile mandalas inspires on my coffee table.)
So when she asked me to add a hand sewn silk-and-horsehair-cord fragment to a print for her, I immediately thought of circles.
As is my tendency, I expanded on the original request…
Not satisfied to  attach just a bit of cord, my mind started to spin connections — between circles and Kasia, Kasia and me, the lotus and the bodhisattva, the circle and the mantra garland on a moon disc at the heart of the deity…
What emerged was this circle of silk, couched with horsehair cord to spell the Tibetan word padma (pronounced pe-ma, as in Pema Chodron).
With a vowel marker over the second syllable, it becomes padme (pe-me), the fourth and fifth syllables at the heart of Chenrezig's mantra om mani padme hum (sometimes translated as "Hail, the jewel in the lotus"). His Holiness the Dalai Lama says the  six syllables taken all together mean that, "in dependence on the practice of a path which is an indivisible union of method and wisdom, you can transform your impure body, speech, and mind into the pure exalted body, speech, and mind of a Buddha."
It's been a joy to create something so personal and so simple, to stitch connections and to know the work will inspire.
I would love to make more of these personalized embellished prints. Let me know if you'd like one.
Kasia (pronounced:  kaa sha) is a fiber artist with a passion for mandalas (circular designs). After surviving a critical illness, Kasia began seeing sacred circles everywhere she looked and soon began to create inspired fiber art based on these visions. She believes her technical skills are a gift and that color has a healing energy that lifts the Spirit within. Using her sewing machine and a variety of fabrics, paints, and threads, she creates colorful circular pieces that draw the viewer in for a closer look. She calls these pieces LoveLights©. Kasia's mission is to share Love and Light through the work of her hands. 
UPDATE:
Kasia's sister, a passionate flower lover, ordered her own print embellishment. I LOVED making this little lotus leaf to enhance Mo's lotus print. She says the lotus provides her daily inspiration. I'm so happy to be a part of that!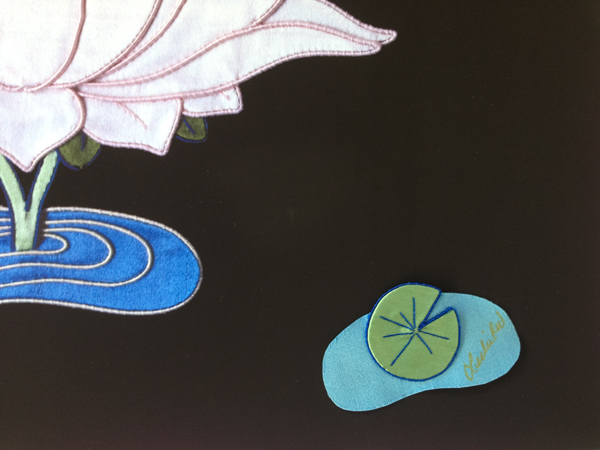 Purchase Artwork & Prints | Commission Your Own | Online Courses