Are you ready to discover the spiritual power
embodied in a rare Buddhist art tradition and connect to that
sacred energy within yourself?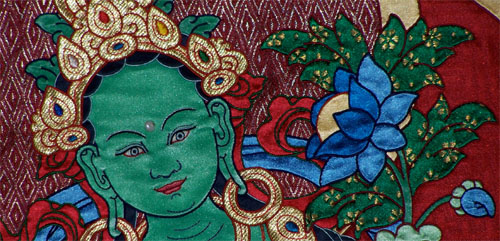 Join Leslie Rinchen-Wongmo,
an artist who has studied with Tibetan masters in India,
for an experiential encounter with sacred art.
Threads of Awakening
Sacred Art Experience
In this special afternoon, you'll
Witness the step-by-step unfolding of a sacred masterpiece
Follow one woman's journey through India to her life's purpose
Watch Tibetan monks transport a massive thangka that simultaneously blesses thousands of viewers
Meet Green Tara, female buddha, protectress, and embodiment of spiritual aspirations
Revel in the color, texture, and beauty of intricate silken images
Take the first step on the path to creating your own silk buddha, wrapping horsehair with silk thread.
NEXT ENCOUNTER:
none currently scheduled
Contact us to invite Leslie to schedule a Sacred Art Experience for your group.
Have questions? Write to Leslie at info@ThreadsofAwakening.com or call 805-626-8272.